We offer limited grooming services!
Here at Belton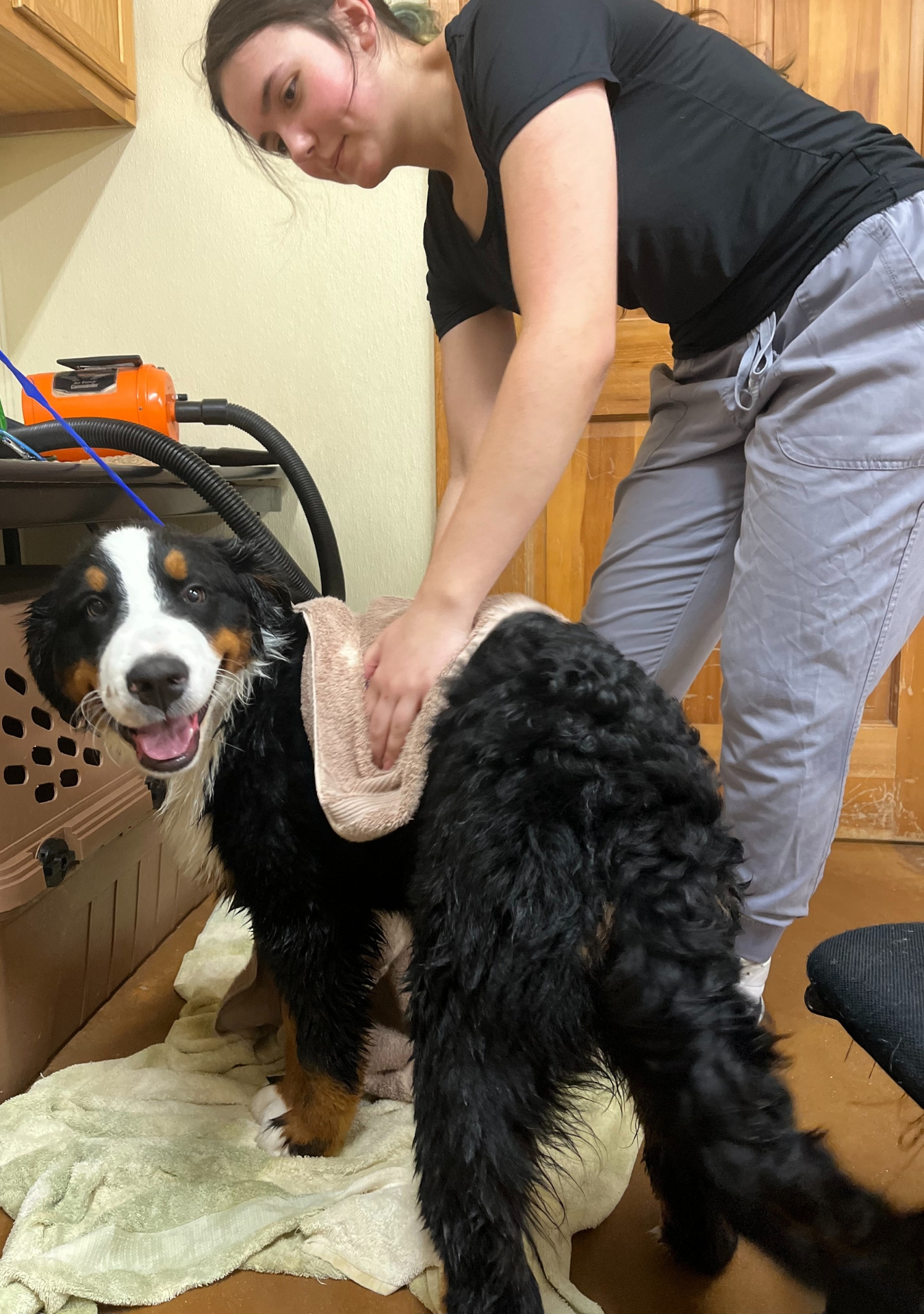 Vet Clinic we do offer some grooming services. We are not professional pet groomers, but, we are able to help with bathing and most grooming needs.
Belton Veterinary Clinic Dog grooming services include:
Baths (standard, oatmeal, and medicated)
Regular Nail Trims
Nail Trim W/Dremel
Ear Cleaning
Anal Gland Expression
We offer these services by appointment only for our existing clients. Your pet will need to be up to date on all required vaccines before we can schedule their appointment. These vaccines include Rabies, Dhlpp, Influenza(H3N2/H3N8), Bordatella (We do NOT accept 3 year vaccines). These vaccines will need to be up to date 2 weeks prior to visit.
If your pet is staying with us for boarding, we are happy to provide these services at the end of their stay. Speak with a CSR as your pets are being checked in and they would be happy to add on any additional grooming services needed. All grooming will be done on the date of pick up and your pet will be ready after 2 pm that day.
Why is Grooming So Important?
When most people think about pet grooming, they conjure up images of bows, brushes, and running after their pets. Others have the misconception that pet grooming is not necessary. However, it is an important aspect of a pet's overall well-being and health. Pet grooming is important for the whole family as well. You do not want your dirty and smelly pet jumping on your couch or clean bedsheets.
With proper pet grooming, it can help with shedding, fleas, ticks, and various health conditions. Proper grooming is more than just having a cute pet. By grooming your pet, you will also be tackling potentially unhealthy conditions. It will also allow you to identify any underlying conditions or diseases early. Therefore, you will be able to take your furry friend for treatment sooner and more efficiently. Other important benefits of grooming your pet include:
Grooming Maintains Healthy Coat and Fur
If you want your canine pal to maintain a healthy fur and coat, you need to groom him or her frequently. You cannot expect your pet to jump into the shower and do his or her business as well as you can. You do not even have to give your pet a regular bath. To maintain his or her fur and coat, you simply need to brush him or her.
Any seasoned pet owner will tell you that brushing your pet will benefit him or her greatly. It will also strengthen your bond, in addition to helping to avoid mats in his or her fur. Mats can cause abrasions and ulcers, in addition to making your pet's hair knot up, which will cause him or her pain and discomfort.
Grooming Can Help Prevent Joint Pain
One of the most important parts of grooming is caring for your pet's nails. Your pet may experience joint pain as a result of uncut nails. This is because he or she will have to walk with misaligned pads. This is a common problem with dogs. Trimming your pet's nails will keep him or her from curling. It will also prevent germs from getting in there.
It Encourages Positive Behavior
This is one of the most important benefits of regular pet grooming. If you groom your pet regularly, it will affect his or her mental health positively. A good-smelling, good-looking pet is a joy to be around. The positive reinforcement your pet will receive from people will affect his or her mental state, which will improve his or her behavior as well.
Give our office a call today to schedule your pets grooming care!