Canine Blood Donor Program:
Our blood donor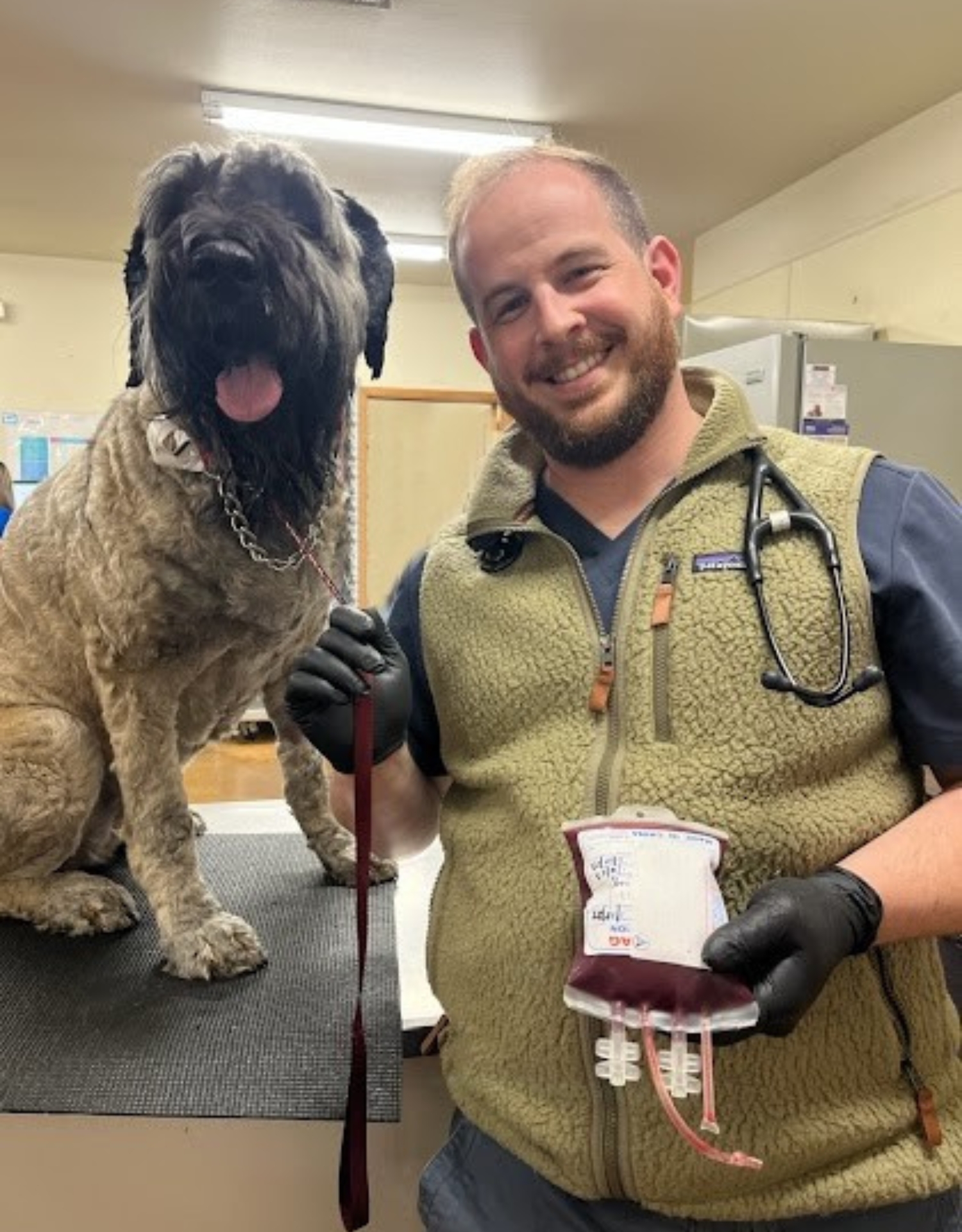 program enables us to administer lifesaving treatments on our patients. We often have patients that are in critical condition and in need of a blood transfusion. We have seen numerous patients make a full recovery and live long healthy lives.
 The donation process:
We will meet with you and your pet and make sure they can be handled by another person.
We will draw a small amount of blood to run a Complete Blood Count (CBC) to make sure your pets internally able to replenish the blood being taken for donation.
Your pet will be evaluated to ensure they are healthy enough to receive a mild sedation that makes the donation procedure happen smoother. They will receive a reversal specific to the sedation medication and will be able to go home the same day.
A small square will be shaved from your pets' fur. It is so the jugular vein is visible and accessible.
Your pet will receive a one of a kind bandana once the procedure is done and a photograph will be taken for promotion and acknowledgement purposes.
We will schedule donation times with you to better suit your schedule and the clinic's need for blood.
Your pet may donate a minimum of twice a year and up to four times a year. It is your choice on how many times you would like your pet to donate.
There may be a time when we need an emergency donation and may call upon your pet to help.               
Requirements for donation:
A good disposition and tolerate restraint
Weigh at least 50 pounds (22 kilograms)
Must be between the ages of 1 yr and 6 yrs of age
Must NOT have an excessive amount of loose skin around the neck area
No previous blood transfusion or blood disorders
Current on vaccines required by our facility for boarding (day boarding)
Current on heartworm prevention
Negative for the following infectious diseases: Heartworm disease, Ehrlichiosis and Anaplasma
No neurologic disorders or on medication that could pose a problem for the recipient/donor
Not in a breeding program
If abnormalities are found on examination or on laboratory tests, recommendations may be made for further evaluation, diagnostics and/or treatment. Any and all costs will be your responsibility.
Donation Incentives:
After the first donation a credit for the vaccines received from our facility will be applied to your account.
Upon the third donation within a year, you will receive a credit for the price of an annual heartworm test and the cost of Proheart6.
**Did I mention that your pet gets one of our one of a kind designed bandanas**
If you are interested and your pet meets our requirements, please pick up an interest form from one of our lovely receptionists at the front desk. We will get back to you as soon as your form is reviewed/approved to schedule an appointment to meet you and your pet if we haven't met before and then we will schedule a good day for donation. Thank you in advance to all who apply, it is greatly appreciated!