Based on an article that first appeared at
Does your dog love the water? Does he or she have a special toy they will do anything to retrieve? Do they have a strong play drive? If so, then the canine sport of dock diving or dock jumping may be for you.
Any breed, including mixes, and any size of dog can compete as long as they are six months old, healthy, and the love water! Dogs compete for distance, leaping for height and swimming for speed.
Although dogs have been jumping off of docks to get their special toys for years, dock diving became recognized as an official sport in 1997 at the Purina Incredible Dog Challenge. There are three main events: Big Air, jumps that are measured for distance; Extreme Vertical, which involves dangling a toy over the pool and the dog must retrieve it mid-air; and Speed Retrieve, which is the sprint of dock diving.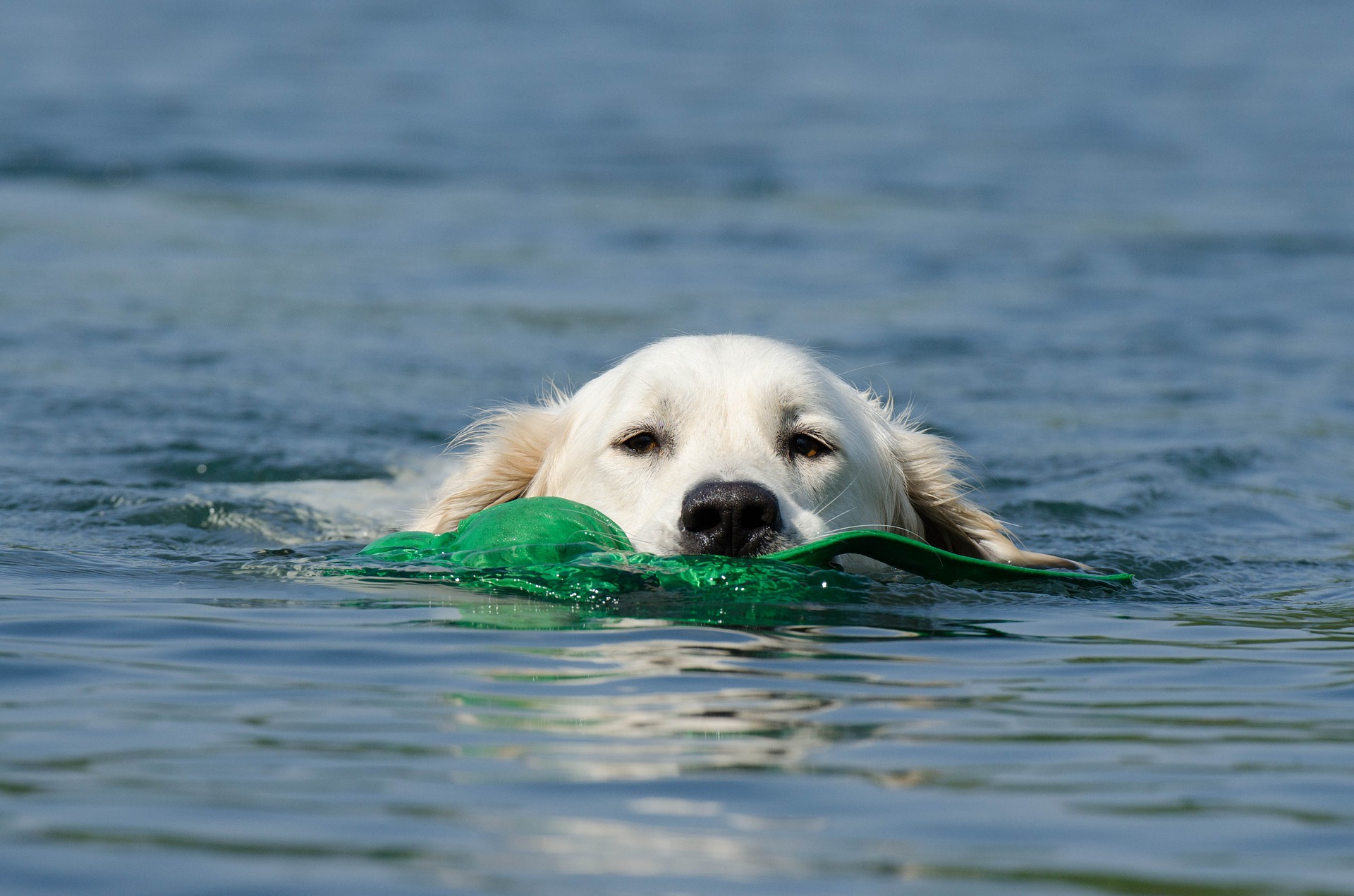 A good foundation in obedience is a good start for any canine sport. It is also a good idea to talk to us about whether your dog's joints are ready for a sport. To get ready for dock diving you should acquaint your dog with water using their favorite toys and games of chase and retrieve. A life jacket is a good safety device to start with and you can remove it as your dog becomes a better swimmer. Life jackets are allowed in dock diving, but can interfere with your dog's ability to stretch and drive for distance.
North American Diving Dogs (NADD) was formed in 2013 and the group has worked to develop dock diving into one of the fastest growing canine sports. NADD titles are recognized by the American Kennel Club (AKC) though the AKC's Title Recognition Program. Your dog does not have to be an AKC-registered dog to participate in a NADD trial. Dogs without an AKC Pedigree may join the AKC's Canine Partners program for AKC Titling recognition.
To encourage participation for all sorts of dogs, NADD has created divisions so any size and age of dog can achieve excellence. The Open class is for all size dogs. The Lap Class is for all dogs under 16″ at the withers. If you have a Lap Class dog it can achieve the same titles as the Open Class but does not have to jump the same distance. There is also a Veterans division for older dogs.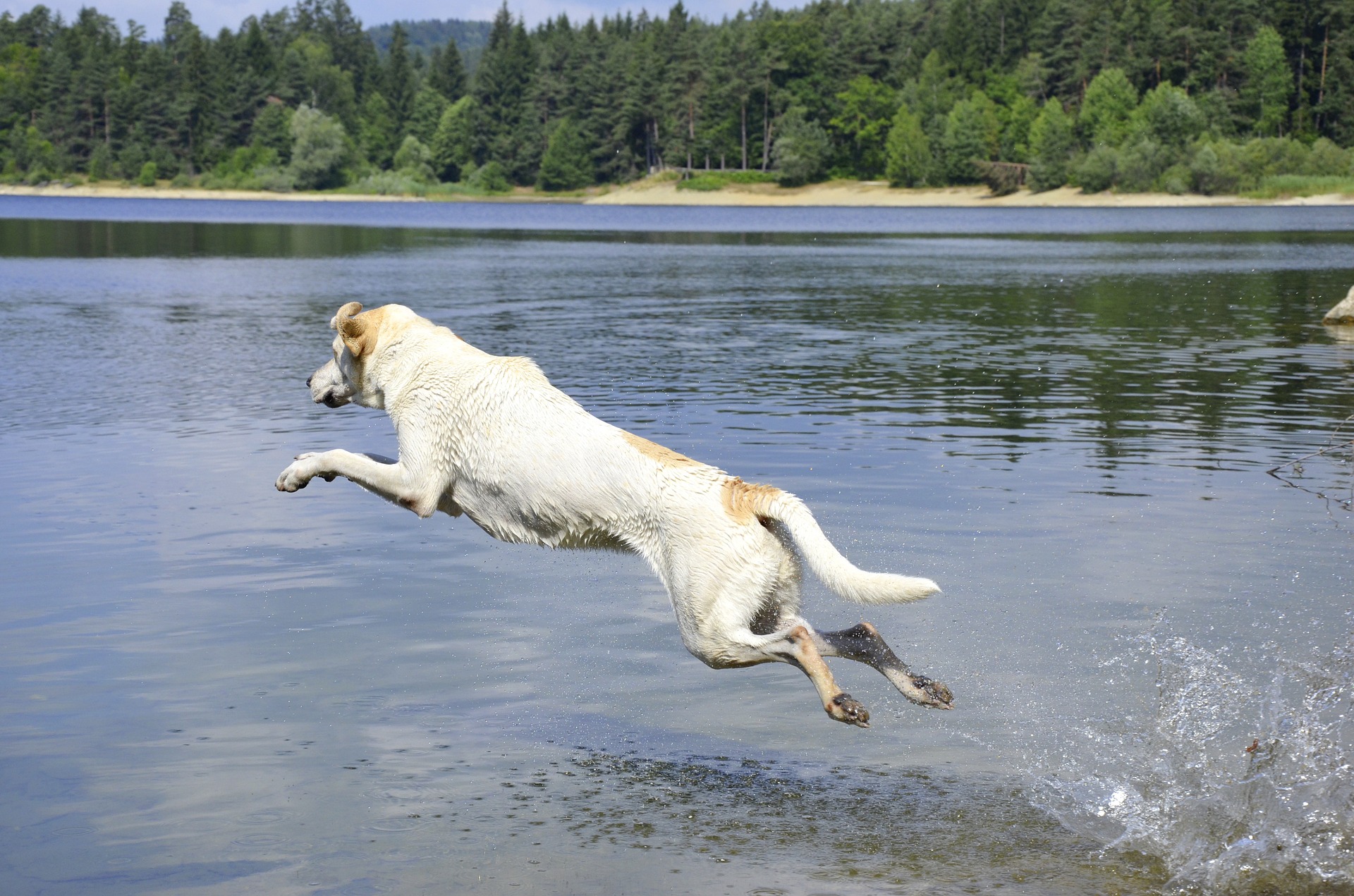 When Sharon Kitchens of Richmond, Virginia was new to the sport with her Golden Retrievers, she said, "I've participated in numerous dog sports (conformation, obedience, and rally), but dock diving is, by far, my favorite. There are several reasons, but the biggest is my dogs LOVE it. The simple look of joy on their face when they realize what they're going to get to do puts everything else to shame. There is no need for a treat to entice them, there is no need for a command to tell them what to do, there is no need for hours of practice, there is no need for them to be bathed and groomed – there is just fun. You simply have to look at pictures of dogs participating in dock diving to see that joy!"
If you have any questions about your dog's fitness for sports like dock diving, please contact us.